The brand Truefala represents our values: sustainability, biodegradability and honesty. Truefala also cherish ethical values.
The ethical values
We are honest about the whole process of production, the qualities and sources of fabrics and other components. The clothing is ethically produced in Slovakia, by the Slovak women who are being fairly compensated.
The timeless design
We enthusiastically fight for minimizing the adverse effect of fast fashion on the environment. Truefala helps to fight against fast fashion by offering fashionable, quality, and long-lasting clothes. Our design are minimalist and timeless, perfect parts of capsule wardrobe.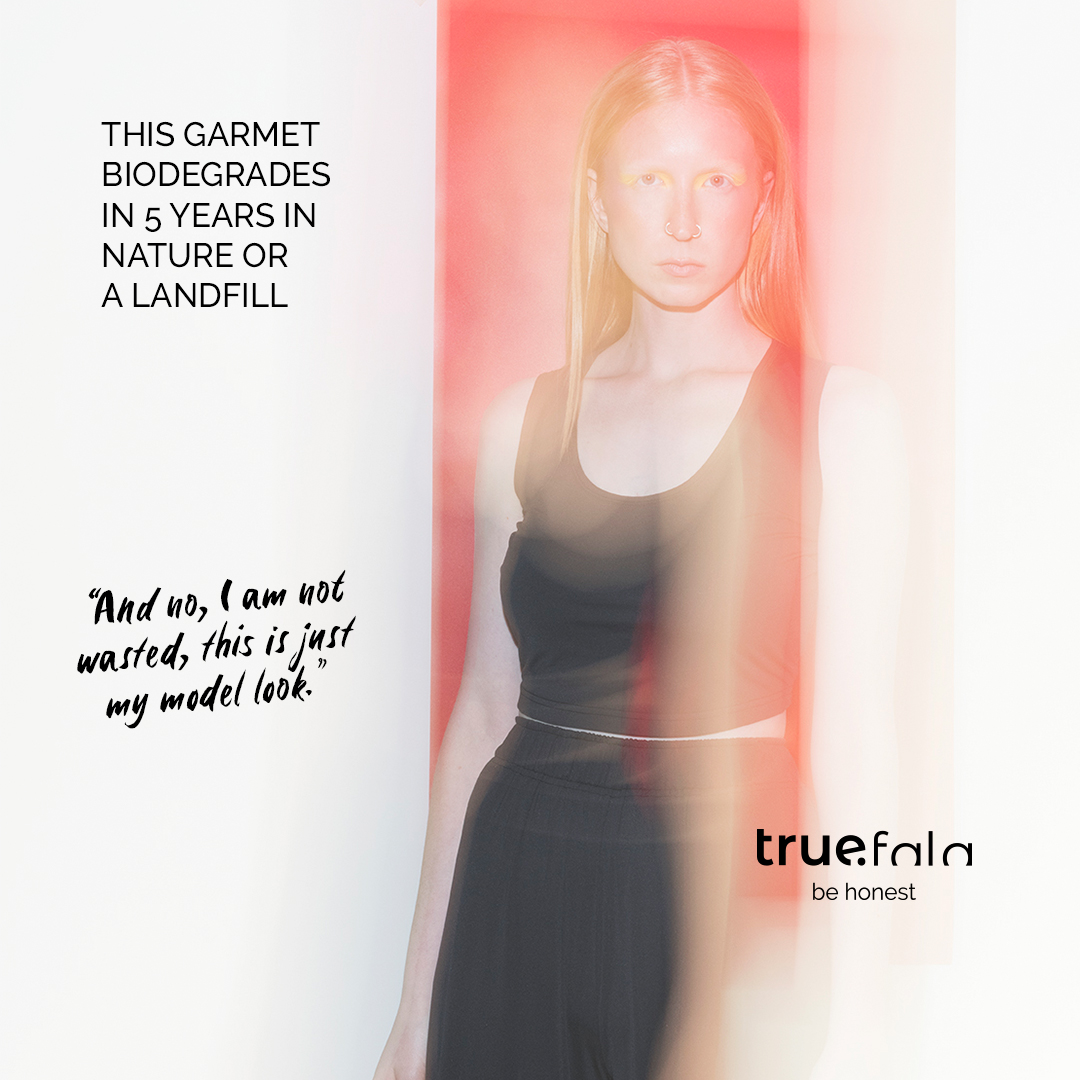 The brand is sustainable - Truefala uses biodegradable fabrics and components sustainably produced in European Union. The fabric and components biodegrade in landfill or soil to biomass without releasing any harmful ingredients.
What our clothes are made of:
The sustainable fabric
We use a biodegradable petrol-based polyamid 6,6 with a formulation of additives that confer the property of enhanced biodegradability called Amni Soul Eco®. Amni Soul Eco® technology keeps the durability and the quality clothing, thanks to the decomposition process that only starts when the garment is discarded and reaches the landfill having contact with microorganisms existing in this anaerobic environment, which accomplish the yarn biodegradation. Unlike other fibers which take decades to be decomposed, Amni Soul Eco® takes around five years to be eliminated from the planet, reducing the environmental impact.
Amni Soul Eco® technology is part of a new generation of sustainable yarns coming from a process that respects the environment. This care for the planet is present in the reuse of water used in its manufacturing process and in the reduction of greenhouse gases, which are treated prior to being released into the environment, thus preserving the ozone layer and nature.

The sustainable threads
We use Celofil® threads. Made of 100% cellulose wood pulp, this thread was developed especially to be used in all types of post dyed garments. It's an excellent alternative to 100% cotton, with a similar behaviour when dyeing but with huge advantages when used in elastane and lycra fabrics even in garments with very aggressive washing and finishing when the resistance and elasticity are very important. Developed especially for Jeans, has a higher resistance when compared to any other cellulosic fibre, avoiding breaking and defects problems after dyeing, it's the best option to sew. The product is also eco-friendly, once this is an article completely biological and biodegradable. Celofil® threads are made from 100% Tencel™ Lyocell. Tencel™ Lyocell has certified biodegradability by TÜV Austria.
The sustainable rubber
We use the Elastic Rubber band Organic consisting from 65% Organic Cotton 35% Natural Rubber. The rubber decomposes in soil within 16 weeks.